The Music Of Copywriting
Published by: David Garfinkel on 03-18-2019
Tweet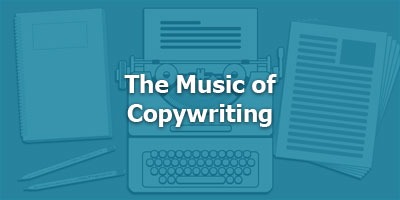 He also happens to have a doctorate in classical music composition from the University of Cincinnati. He's won awards for his music and he wrote an operate which was performed at the Kennedy Center. Plus, he was a Fulbright Scholar at the prestigious Ferydyrik Chopin University of Music in Warsaw, Poland.
Now, since this is the Copywriters Podcast, Dr. Pew has agreed to give us an in-depth look at some prized secrets only composers know, that we can use ourselves to make our own copy much more compelling and profitable. And it will be easy for you to understand, even if you don't know anything about music other than what you like to listen to.
Doug, welcome, and thanks in advance for all the hard work you've done putting your part of this show together.
Before we get into this exciting material, I have a message that could well be called the Music of the Copywriters Podcast:
Copy is powerful. You're responsible for how you use what you hear on this podcast. Most of the time, common sense is all you need. But if you make extreme claims... and/or if you're writing copy for offers in highly regulated industries like health, finance, and business opportunity... you may want to get a legal review after you write and before you start using your copy. My larger clients do this all the time.
So Doug. You've told me you have three musical strategies that evoke and extend emotions in copywriting. I got very excited about this idea, because that's what every good copywriter wants to do — engage the prospect's emotions and keep an emotional momentum through the close.
1. Could you briefly explain the concept a composer uses to evoke emotions in a piece of music?
2. Your first strategy, let's call it "Variations on a Theme." It's about a famous musical phrase that takes less than a second and keeps audiences on the edges of their seats for 45 minutes! Could you explain this strategy to us and then show us how it works in copy?
3. Now, let's talk about your second strategy. We can call it "Striking a Chord." You composed three chords that you told me caused your church audience to feel the presence of the Holy Spirit. Please tell us about that, and how we can use this, even in a non-religious context, with copy.
4. And let's call your third example, "Off the Beaten Path," because it involves a rhythm that is off-beat! I think you've got a Beatles tune in mind. Let's hear about that.
5. Finally, I haven't run into too many other award-winning classical composers who are also copywriters, Doug! Would you tell us about how you got into copywriting, and about your new book?
6. How can people get in touch with you?
Doug's Website
Keywords:
music harmony patterns copywriting