3-D Copywriting
Published by: David Garfinkel on 04-15-2019
Tweet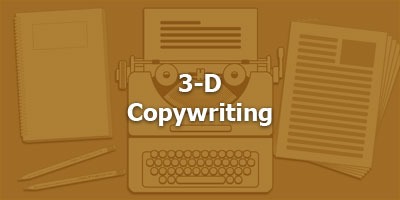 Why is this important?
Because "the copywriter's journey," as we'll call it, goes something like this:
- You start out learning to write copy. Big mystery
- Suddenly, it becomes clear as something you write "hits"
- Then, almost just as suddenly, the floodgates open. You have more clients than you have time to write for (on time)
- Eventually, you learn to write faster
- You start to make amazing money
- Then, a funny thing happens. You notice that your clients — especially those selling info-products, seminars, and courses — are making even more money than you are.
As in, a LOT more.
Now, there's nothing wrong with their making more money than you do. And, if you've played your cards right, you're still getting paid pretty well as a copywriter.
Even so, at this point in your "copywriter's journey," (and the same thing happens with business owners who don't start out in the info-product business), a question occurs:
"Why can't _I_ do that kind of thing and make that kind of money?"
Well, if that's you -- you can.
But you need some additional skills.
And most of those skills revolve around something many people avoid at all costs: public speaking.
But it doesn't have to be that hard, or that scary.
Our guest, Tom Antion, knows how to take in huge paydays speaking from the platform — and claims to have trained more public speakers than anyone else alive.
I've known Tom for 30 years and my jaw has dropped repeatedly over time at Tom's energy, industry, willingness to help, and ability to help other people get results.
He's a great speaker. A terrific trainer. And genuinely nice, and generous, guy.
Tom very generously shared a lot of tips on the podcast. As someone who has used public speaking myself (not just podcasts, but platform speaking) to substantially grow my own businesses, I strongly recommend this value-packed, and frankly very entertaining as well, podcast interview.
Screw The Commute Podcast
Keywords:
selling from the stage speaking copywriting