Stop Leaving Money On The Table
Published by: David Garfinkel on 05-13-2019
Tweet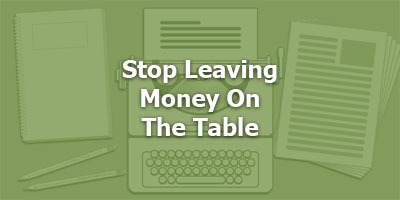 Brandon is a stock market guru, turned marketer - turned copywriter.
He's managed product launches for the likes of Jeff Walker and he's currently a copywriter for Stansberry Research, the 2nd largest division of Agora.
Brandon specializes in product launches and maximizing long term value and retention. He does this by understanding how to build long term relationships with clients through marketing and copy, and by working deep inside of funnels to maximize net revenue.
Brandon's entrance into the world of direct marketing is at once impressive and hilarious. And, maybe, instructive and inspirational to anyone just getting started. Also, there are nuggets for every marketer who's willing to listen deeply and think about his great origin story.
There's a big difference between money and fame. Or, between cash and glory. Sometimes rich people also get a lot of fame and glory, but more often than you'd think, people who act rich don't even have next month's rent in the bank.
Brandon's been doing well for a long time, and he's well known but only among a select group of people who have knowledge of his extraordinary talents.
It's also worth pointing out that there's not nearly as much glory in sweeping vast sums of the money off the table the way he does as there is in writing a sales letter that becomes a control.
Nevertheless, Brandon is quickly becoming very well known in his own right not only as a copywriter, but also because of his knack for maximizing the value of each customer with the special magic he performs.
Now, there is nothing wrong with making a lot of money for a client (or for your own business) by writing a profitable and long-lasting sales letter.
But there is something not right with developing customer relationships and then letting them die, twisting slowly, slowly in the wind.
On today's show, Brandon will tell you how you can create multiple customer-relationship-sustaining funnels and stop leaving vast sums of money on the table!
Keywords:
customer retention funnels