Writing In Your Client's Voice
Published by: David Garfinkel on 09-16-2019
Tweet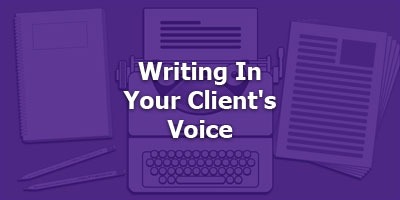 In fact, all that Red Bull must be working. Last year he had more than 200 clients. However he summons the energy, this is a guy who gets things done!
Justin's talked about a much-needed but greatly overlooked topic: Writing in the client's voice (or your own authentic voice). He's an expert on that and we really enjoyed what he shared with us.
Justin answered these questions:
1. What is "brand ventriloquism," and how did you get into it?
2. Please share with us the example of a good brand voice you developed for a person or a business, and a tip or two for our listeners on how they can improve their own brand voice.
3. What does a bad brand voice sound like? How can we avoid making the mistakes that lead to a bad brand voice?
4. Why is brand voice so important? Do you think it will become even more important in the future?
Justin's website is
PrettyFlyCopy dot com
Keywords:
copywriting voice