From Screenwriter to Copywriter to Super-Screenwriter
Published by: David Garfinkel on 10-14-2019
Tweet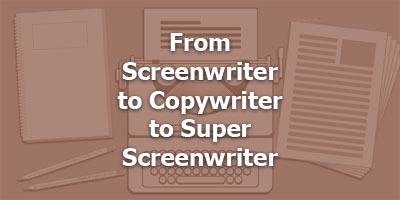 For example, The Higher Game and The Bold Life Brotherhood. He's co-founder of this business-in-a-box curriculum of transformational games evenings and weekends that build visibility, revenue, community and customer bases.
But wait, there's more: Adam's also a former Co-Founder and Programming Director of National Lampoon Radio and an Emmy- Nominated Executive Producer. His award-winning films have appeared on USA Networks, Lifetime and TNT, and has written for Disney, CBS, ABC and elsewhere.
Over the last 10 years, he has built a dating, personal development and coaching business that has reached hundreds of thousands of people. And he's used copywriting for that, too.
Adam's also got a strong background a creativity consultant for major companies.
On the show, he gave us important, valuable details about his own double transformation. He went from screenwriter… to copywriter… and then, surprise, back to screenwriter, with some turbochargers attached to his brain and fingers.
Keywords:
copywriting dating sites movies and film