John Carlton: A Master Speaks About Copywriting, Part 2
Published by: David Garfinkel on 11-04-2019
Tweet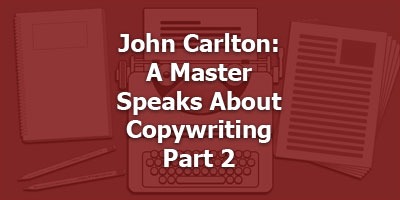 Thousands of copywriters and entrepreneurs have learned from Carlton. He still gets royalty checks every month for ads he wrote decades ago. And if you pull him away from writing copy, he plays a mean electric guitar.
Carlton agreed to come back because he had more to tell us than we could fit into one show. I'm proud to call him my friend and to have partnered with him on more things than we have time to mention in these show notes.
But let's summarize what you'll get from listening to John Carlton on this show:
He shares some key but little-understood insights from advertising greats of the past, Claude Hopkins and Rosser Reeves. Insights that, once understood, will help you dominate your market, even if your products are 99% the same as most of their competitors.
Also, one of Carlton's most valuable concepts — being a "sales detective" — gets elucidation and clarity I've never heard before, and I've spent a lot of time talking with and listening to Carlton in years past.
You'll also hear the key insight he got from Napoleon Hill. Once you hear it, ask yourself this question: So maybe I already knew it. But do I actually DO it?
It's a key question. And taking action on the answer makes all the difference in the world.
Finally, Carlton's unique and can't-miss method for getting clients and their customers to open up and "give you the goods" that you need to write winning ads.
There's a fundamentally different way of interacting with people that most writers simply don't know how to do, and John spells it out.
It's not that difficult and certainly not impossible to learn. You'll want to hear what he has to say and decide for yourself if this is something you want to start doing.
Keywords:
John Carlton Copywriting