Maxwell Sackheim's Magic List - 1
Published by: David Garfinkel on 01-06-2020
Tweet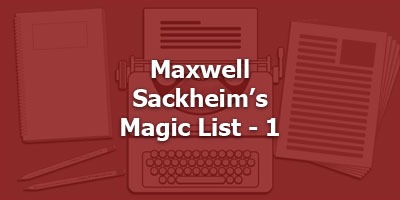 Sackheim started in direct mail in 1906. In 1927 he was a co-founder of a highly successful direct-mail business, The Book-of-the-Month Club.
He wrote a very famous ad with the headline, "Do You Make These Mistakes In English?", which ran for 40 years and was always profitable.
Today the list we'll go over is called "Seven Deadly Advertising Mistakes." There's nothing obsolete about anything on this list. And I've added a lot of information for each item on the list so you can put the information to work right away.
1. Failing to Give The Reader a Reason to Read Your Ad
You need to make a promise that your reader will find worth reading the rest of your ad.
Cheat Sheet Question #1: Did I give my reader a good enough reason to read the ad?
2. Using Headlines That "Whisper Sweet Nothings"
You need to get readers excited about something that's important to them, in a direct and powerful way.
Cheat Sheet Question #2: Does your headline reach out and grab the reader?
3. Using Pictures that Do Not Talk
Any picture you use needs to tell a story, by itself, that furthers the purpose of the ad itself.
Cheat Sheet Question #3: Is the picture so good that it could partially or fully make the ad work by itself?
4. Giving In To The Curse of Cleverness
If you try to show how entertaining you are more than how much you know and care about a problem the prospect has, and how you can solve it… you're making a deadly mistake.
Cheat Sheet Question #4: Am I making my prospect laugh… or am I locking in my prospect's serious attention?
5. Going Around Robin Hood's Barn
A lot of advertising makes readers jump through mental hoops to understand what it's trying to sell you. Make yours a smooth glide in a straight line.
Cheat Sheet Question #5: How easy is it to follow my pitch all the way through?
6. Leavin' 'em Dangling
Always give your reader something to do. Otherwise, risk losing them forever.
Cheat Sheet Question #6: Did I give my prospect something specific to do?
7. Using "Yackety-Yack" Copy
Don't waste your reader's time. Make everything you say interesting, useful, intriguing, or curiosity-provoking.
Cheat Sheet Question #7: Am I providing interesting value every step of the way?
Keywords:
copywriting founding fathers